Our Church
Divine New Life Fellowship (DNLF) is a church that truly built on the strong foundation of the Word of God and its teachings. A church that believes in the simple, practical and implicit application of the Word of God. 
Purpose
God created us to worship by approaching His throne with reverence and offering our lives as a living sacrifice.  A heart in tune with God cannot help but sing His praises. DNLF Service starts with an opening Prayer which is followed by a Spirit filled Worship. The purpose of our Worship team is to invite and give each and every soul present in the church and those joining online an experience to glorify the Lord.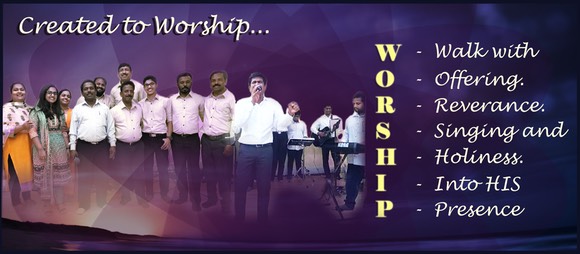 Vision
God alone is worthy of our worship. Glorify the Lord with us; let us exalt His name together.
The gates to the presence of God are always open. We help the church to enter the gates with praise and thanksgiving. It's a time to glorify Him for His goodness, steadfast love and enduring faithfulness which He continues to shower upon us. The worship is filled with "Shouts of Joy" because of the mighty presence of the King of Kings. The shouts of joy turn into beautiful songs because in Christ we are "Adopted into His family as a Child of God". Wow, this is compelling us to lavish upon Him an offering of priceless Worship
Mission
We believe that the worship is not only about music, but a lifestyle that includes expressed adoration, a dedicated prayer life and hunger for the word of God which produces life. Everyone is created with gifts and the mission of the team is to discover, develop and demonstrate their gifts for the purpose of advancing the kingdom of God. The Worship Ministry at DNLF is committed to using the gifts of music, singing, song writing and production to create experiences where all people are inspired to worship God.